Meet Jen Guzman
To understand why every handcrafted piece of jewelry from her collection holds such good energy, you have to know the intent behind the designer. So let me introduce you to Joan's daughter and a peek into a childhood memory. Two kindred souls bonding over a love of baubles and gemstones is a hometown impression we all want attached to our finds. Jen Guzman is that driven New Yorker on paper: a solid education, corporate world accomplishments, and a citizen who can hold her own. Yet, it was in 2007, two years after the untimely passing of her beloved mom, that she opened a treasure chest not only into a memory but into herself.
Fast forward to that creative heart that chose love over the corporate race.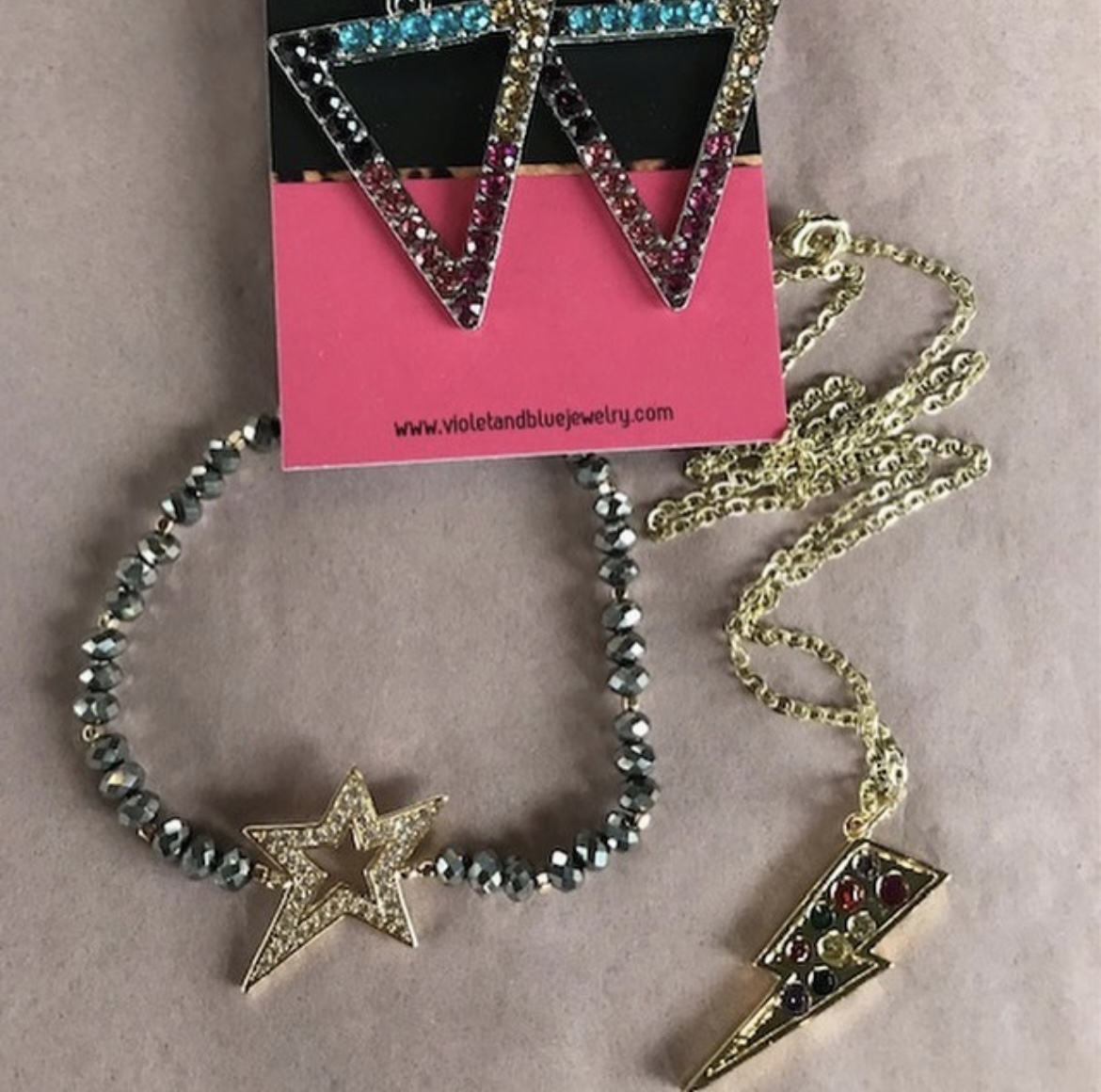 Named after a Stevie Nicks song, Violet & Blue Jewelry is like that good tune on the radio you don't want to end. Crystal encrusted statement pieces intersect with Diamond Star Halo necklaces in gunmetal grey and silver. Nature-inspired dangly earrings and Rock & Roll-inspired celestial jewelry that you spot on the pages of sexy magazine editorials brought to life.
When each thoughtful design reaches the golden hour, only a few are curated and sold. This means limited-edition, small batches of goodness in the market (your style nemesis won't have the one up).
Jen's latest breath of expression is the Electric Warrior. Whether it's the Rockstar or Glitter Chain necklace or Stardust Bracelet, something in this assembly will match your inner hutzpah. A clear nod to English musician and glam rock pioneer Marc Bolan of T. Rex, this mood has a distinct edge and feels like that adventurous woman who puts the pedal to the metal when no one's watching.
Violet and Blue Jewelry has been spotted at five of my Giving Closet surprises. She understands the importance of celebrating everyday women that persevere and has even gone as far as mailing personal handwritten notes of positive support to women she hasn't even met.
To claim that a lifetime fan has been made is an understatement. Get anywhere near this spell, and you will be smitten, too.
Where can you spot Violet & Blue next? At the original site of Woodstock for the Bethel Woods Festival (every Sunday from August 29th to October 3rd, 2021).