It's an age-old question, are we alone in this universe?
When we decided to move back to California in 2018, it wasn't going to be a cursory view this time around. So far, it's been a deep dive into so many fun enclaves worthy of your exploration.  Let the open highway extract you from your routine and bathe in our latest discovery—Oxnard, California.
Take the more scenic route of the 118 if you can. Too much of the 101 and a few overly aggressive drivers who haven't clocked in on the seaside vibe yet will give this bustling Ventura County attraction a wee bit of that LA suburb feel. But, let that be the end of the comparison.
So much good news intersects in this part of California sixty miles west of downtown Los Angeles. A friend asked before our departure, "What's there to do in that sleepy beach town?" Oxnard has a bevy of activities that can easily fill your day. For starters, whale watching and parasailing would be a bucket-list check. And with a variety of eateries, beaches, and outdoor escapades, sleep is optional, I replied.
There was a slippery slope between hanging out at The Collection at RiverPark all day and all night versus nesting the entire weekend on the patio with mountainous views until the end of time. This Homewood Suites by Hilton spot has been on our minds since we left; such an ideal anchor when you're far from home.
Let's get into this…
Homewood Suites by Hilton Oxnard/Camarillo
1950 Solar Drive
Oxnard, CA 93036
Check-in
Ask for Suite 412, if you can. The friendly front desk receptionist explained that our room was ready, but that Suite 412 was being prepped, and would we mind waiting 20 minutes? Trust me on this, the angels are working in your favor if you hear such words at this same Homewood Suites by Hilton. This room is candy, and hospitality from the heart will win over even the most jaded.
The surroundings are well lit and open, so you feel completely safe when self-parking your rental. On the other side of check-in is a swank space adjacent to a well-manicured pool where you can just let the time breeze by. Want to make a friend? A couple of out of towners headed to the commons area grill deck near the pool with juicy tenderloins in tow would be the ideal place to start. It's as if something has already sparked here, and you'll find yourself settling in before you even receive your card key.
Breakfast here will get your day off to a good start. Scrambled eggs, sausage, home fries, and a devilishly delectable mini ham omelet were packaged lovingly in view to enjoy back in the privacy of our room. Well, you don't have to ask me twice.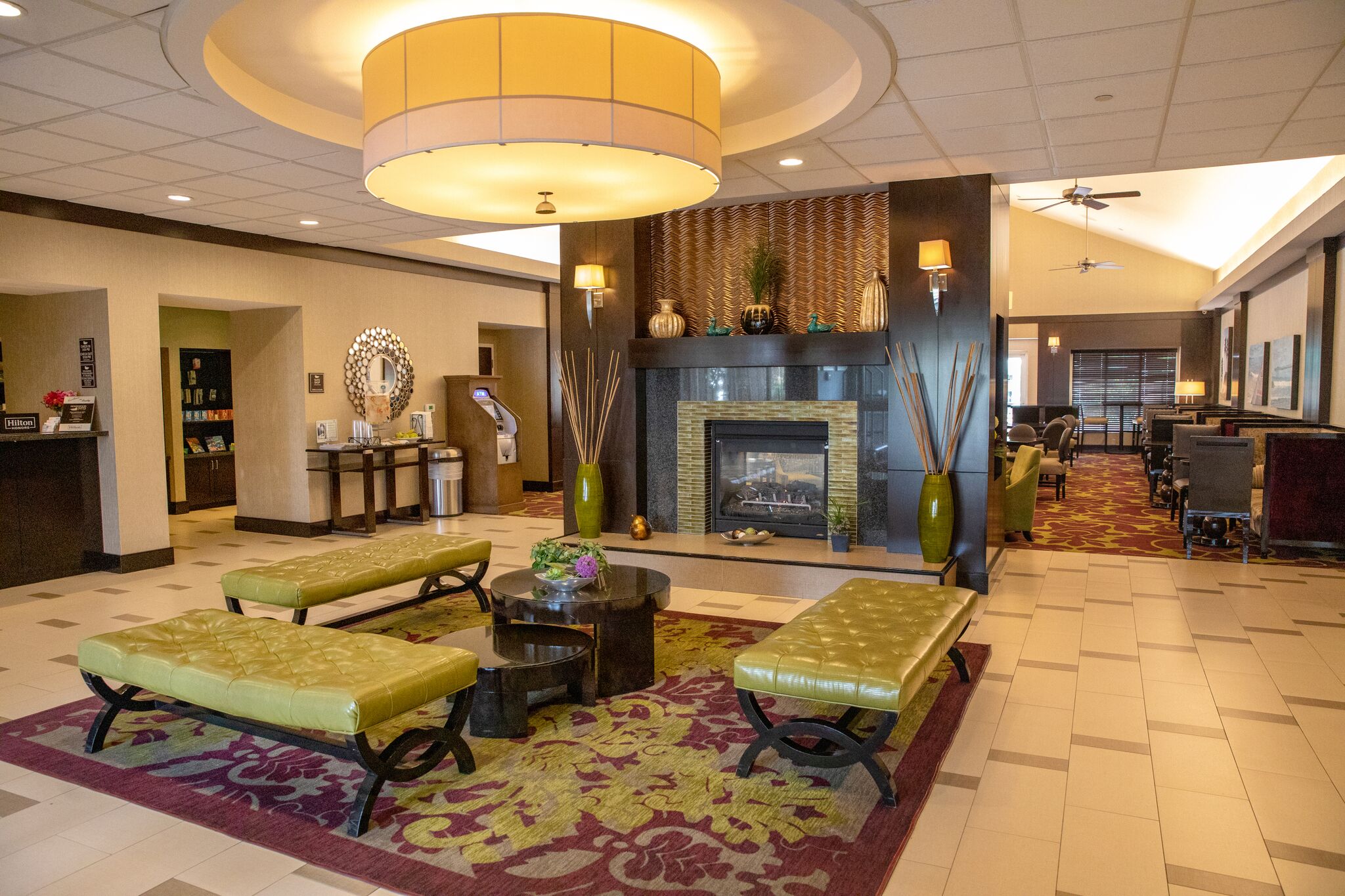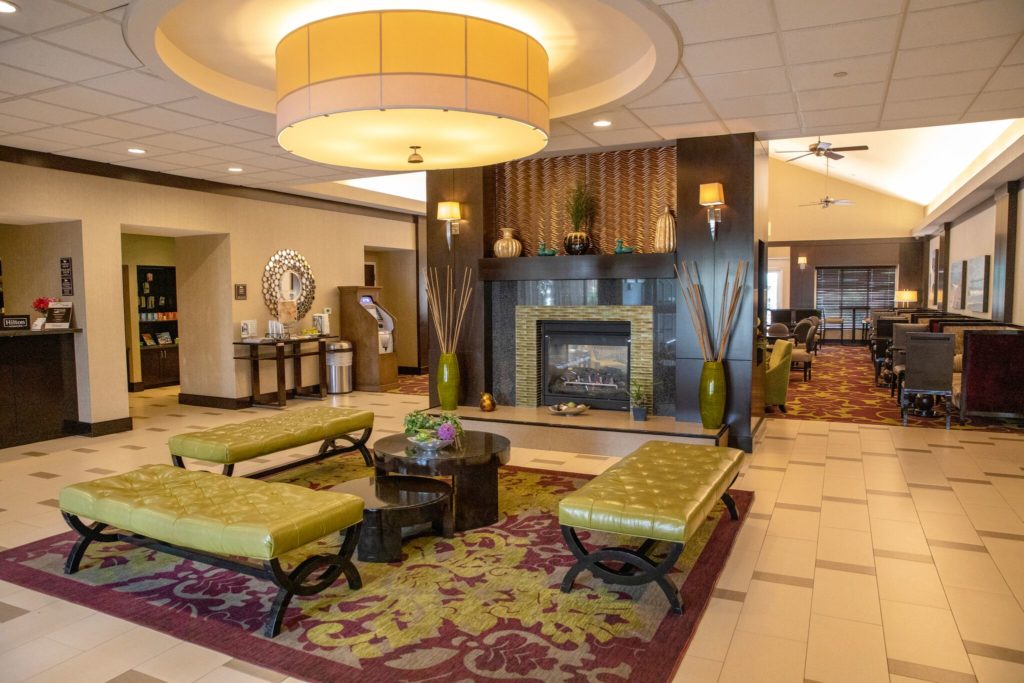 Suite 412
Don't recall this afterglow after that last hotel? No two lodging spots are ever the same. We've never stayed at a Homewood Suites by Hilton before, which explains why our friends who suggested this locale were excited we chose this as our landing spot. Any family member or client you leave here will be in very good hands.
This apartment-style base and all its amenities left us in fine feather—a full-sized fridge, microwave, mini stove and fully stocked cabinet with dishes, glassware, cutlery and anything else desired for an extended visit. Doing the little things right isn't a dying art.
The suite is spacious and you kinda had me at the Vegas-style jetted soaking tub with fireplace and Roman-style columns. We had complete gratitude for the clean bedsheets and our bedside tip for housekeeping reflected that. Do try and pull yourself away from the bathroom vanity mirror long enough to catch the vast mountain ridge view from your private balcony. If you already have landscape like this at home, lucky you. Some of us have to rely on our Waze app to get us there.
Staying in with a full belly or doing it all? Whether your ideal weekend away is action-packed or not, we hope you lay down your hat at this sweet and inviting retreat of lodging. Homewood Suites by Hilton was like a good date we didn't want to end.
Uh-oh. Did you spot your boss in the parking lot or your ex using their Hilton Rewards at the front desk, too? Don't fret. Oxnard has other options.
Noteworthy
The Collection at RiverPark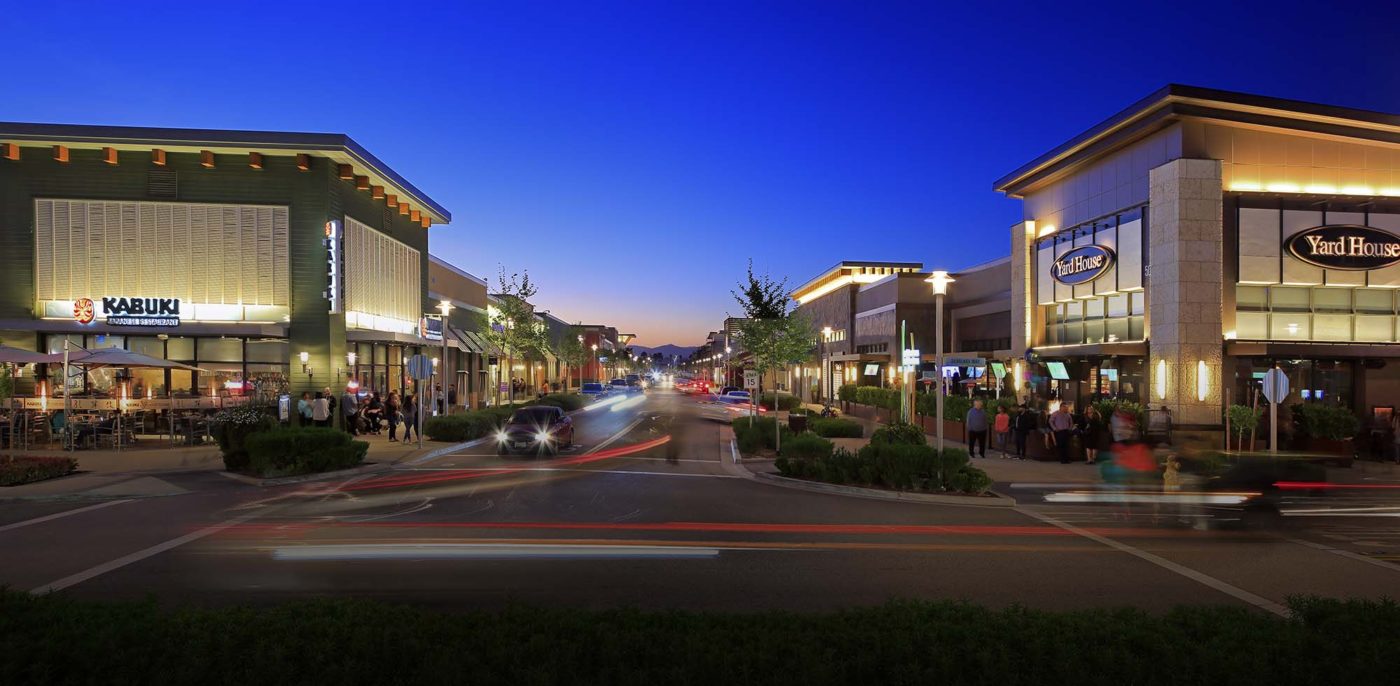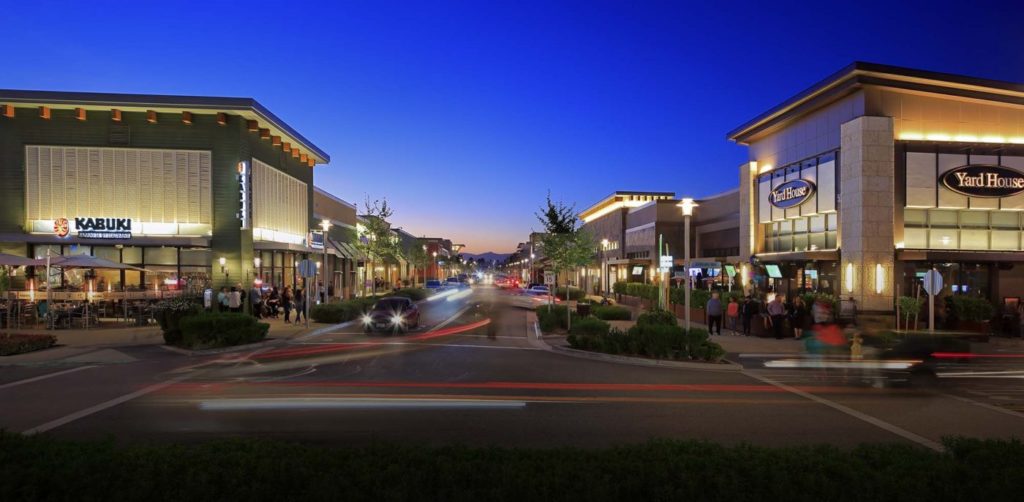 2751 Park View Court
Oxnard, CA 93036
Did you really think we would bring you this far from the hub of Los Angeles without a hint of culture? Everyone's picking up the pace at The Collection at RiverPark, where year-round shopping, food for every palate, and promises of a movie date are never out of the question. Actually, it's quite the opposite, this is encouraged and expected in this urban terrain.
The Collection at RiverPark is Oxnard's version of a great time. And they've seamlessly nailed it. Representing the best of SoCal living, our fellow residents have shunned indoor malls with artificial light and no windows for this opulent outdoor lifestyle center anchored by Target, Whole Foods, REI, and eateries in every direction. This place is Ventura County's premier dining destination with over thirty dining and beverage options. And as if that weren't enough, the first Food Hall in Ventura County, The Annex Food Hall, is another gathering place that celebrates small businesses.
And when ready to dote over someone special for dinner? Here's a couple of spots that fits all your earthly pleasures…
Larsen's Grill by Flemming Larsen
Fill that void in your life and get back into making unforgettable memories again. Nothing should restrain you this trip, and Larsen's Grill is your classic upscale casual steakhouse that is the go-to place for top-tier finds from the mysterious depths of the sea, romantic patio vibes, and intimate lighting to make for a memorable evening.
The grand entrance and impeccable service to follow will best explain why reservations are highly suggested. This spot is coveted.
We gushed over the lobster crunch roll, crab cake, and shrimp cocktail for starters. Everything so thoughtfully seasoned and prepared, sitting up straight is almost a natural reaction when your senses perk up. Jalapeno queso dip was a last-minute impulse buy that was packaged up and fought over later.
The evening only gets better when you surrender to the cold-water lobster tail and five-cheese macaroni for your main dish. Neighboring tables had me rubbernecking over their Chilean Sea Bass and 100% organic all-natural grass-fed filets—but this waistline knows better. No one has room for the butter cake or key lime pie after these shenanigans. Luckily, your fridge back at Homewood Suites has plenty of room for those decadent midnight munchies, and your trainer doesn't even know you went on a staycation.
Kabuki Japanese Restaurant
Well, aren't you a popular secret?
Don't fret if it's not easy to pick up the phone and casually chat about the menu at Kabuki Japanese Restaurant. It is, after all, Friday night.
Any sushi eatery these days has to do more than just exist. They must excel. And this is at the heart of why every local is clamoring for a seat here. After a full run of The Collection at Riverpark, we decided to take Kabuki Japanese back to our equally yummy lodging base, a few minutes down the road. Not a smidge of quality was lost in the short commute.
Not sure how sound your judgment is if you're not smitten after the first crunch of those calamari rings. My other half said the cocktail sauce was equally fresh, but to dip anything this perfect into a sauce is a crime, in my opinion. Every inch of tuna, sweet shrimp, and fatty yellowtail sashimi was savored. We caught ourselves trickling a gentle hum and even a moan, depending on the right balance of ginger and soy. Not a bad start!
Salmon teriyaki with shrimp and vegetable tempura made me a helpless fool in love with our dinner choice. Kabuki Japanese Restaurant has something for every palate on its wide-ranging menu: chicken teriyaki, pork cutlet, rice bowls, soups, dumplings, and so much more so non-sushi lovers won't miss out on all the fun.
Return for happy hour? You mean it gets happier than this? I might explode. With locations popping up across California and Arizona, we will definitely be on the lookout for that red mask. Good character and positive emotions are associated with red after all.
Somewhere between the crumbs of Girl Scout cookies and chopsticks from Kabuki that accidentally fell into my messenger bag, a good weekend was clearly had by all.
Don't judge my morning-after bag. What's in yours?