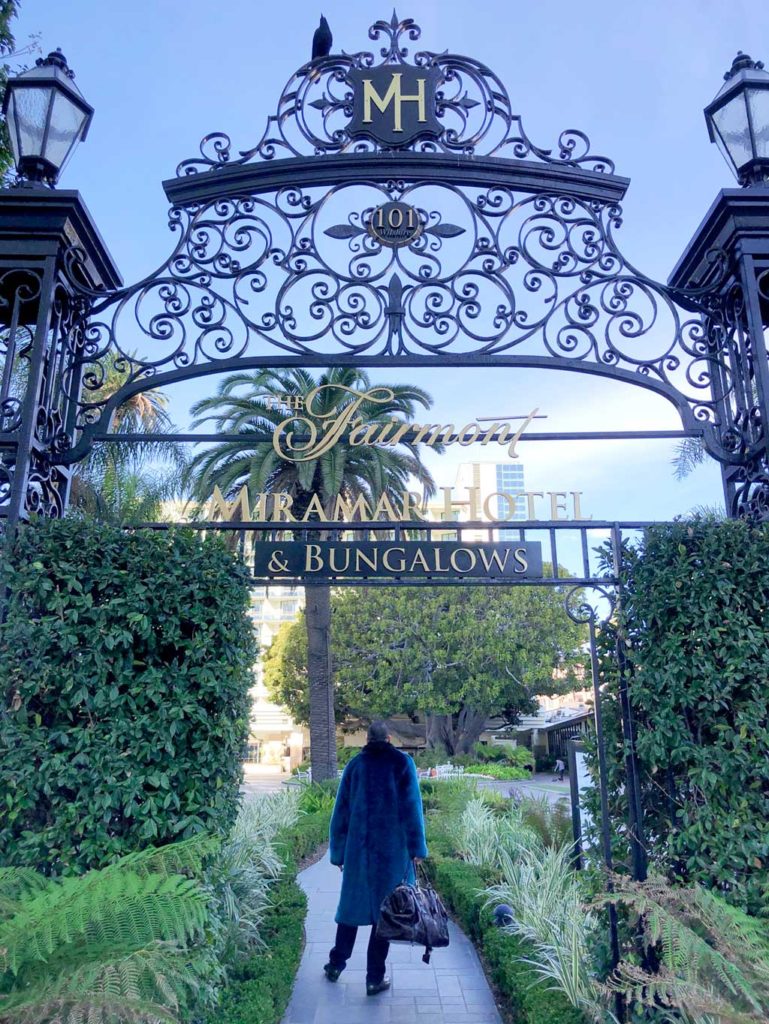 Where: Fairmont Miramar Hotel & Bungalows
101 Wilshire Blvd
Santa Monica, CA 90401

310-576-7777
Reservations only: 1-866-540-4470
Tomorrow Is Your Turn
If peaceful ocean views, tropical foliage, and a pristine heated swimming pool—where no one talks politics—sounds tempting to the ear, chances are good you've spent 2020 indoors a wee bit too long. Burning out isn't a badge of honor, and improving your social status will be a lovely, unexpected perk.
If you've ever traveled well, you've encountered 5-star service that breaks the odometer. There is a wrap-around culture at Fairmont Miramar Hotel & Bungalows that's paramount—and even that started in pleasant and unexpected ways. Picture a warm generosity of spirit that can't be taught in schools. It's this essence of giving that is the manager of this sunny Santa Monica locale. When it's your turn for that much-needed staycation, seek out Shannon Errisson. Shannon is that twinkle in the eye you are looking for after a long flight. No one driving on the 405 will look at you this warmly, so suck it up while you can.
California's beachy lifestyle with its warm, casual vibe and innovative arts and entertainment scene exerts a strong pull to so many across the globe. The Fairmont Miramar Hotel & Bungalows in Santa Monica is the consummate spot for poolside chatter & people watching because of such. The warm afternoon sun at this popular resort creates such serenely lined shadows everywhere you look; you really should see this with your own eyes.
Enter off Wilshire Boulevard to valet your car underneath the magnificent 140-year-old Moreton Bay fig tree—and then trust me, it only gets better from there. The grounds are spacious at five acres but not overwhelming. Fairmont Miramar Hotel & Bungalows has boutique shopping down, too. The most adorable swim trunks will catch your eye at the Vilebrequin store just right of the main lobby. In those rare outings from your ocean view or pool view bungalow, guests can be seen scattered about the lobby lounge and serene koi fishponds and rock garden waterfalls nearby to soothe even the crankiest businessman known to the West Coast.
We were lucky enough to have the pool to ourselves on a Saturday. It was off-season and a bit chilly that afternoon. We don't think guests passing by realized the pool was actually heated and very comfortable. No one promises you such random luck. Hotel staff popped by to see if we needed anything and if a leaf was blown out of place, someone was on hand to put it back. The music was upbeat and spirited, keeping the Californication flowing in the veins.
Something about this setting keeps you interested in life. And we haven't even gotten to the bungalows yet.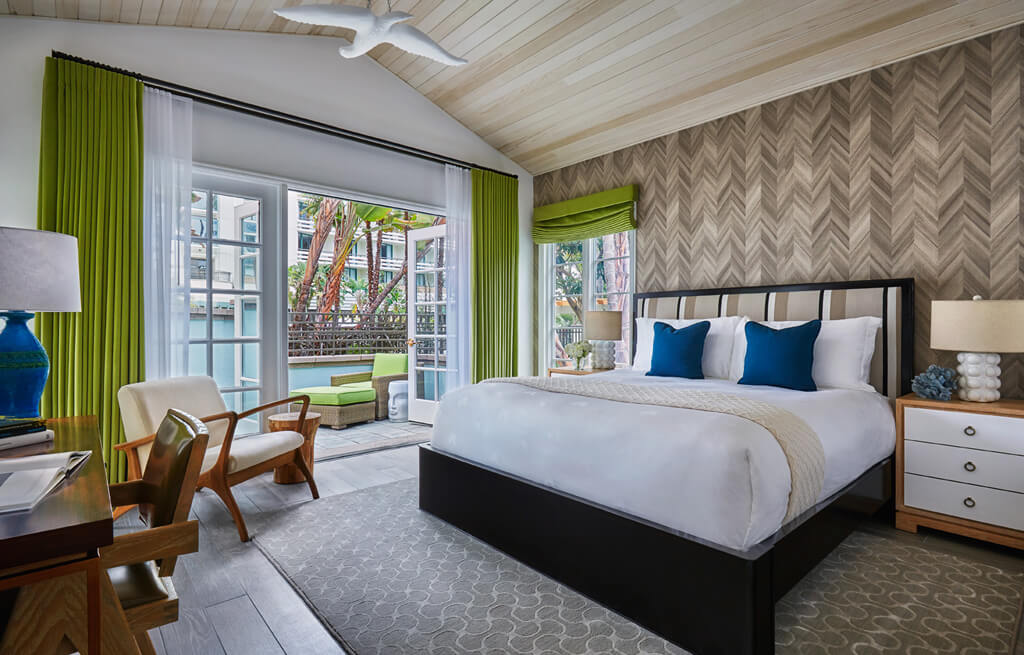 Bungalow #4
Feeling fenced in the last year? Yes, we can relate.
If privacy, comfort, and opulent travel are missing from your life, a weekend at Bungalow #4 can change all of that. The Fairmont Miramar Hotel & Bungalows decor is top tier flair but balanced to secure your bond with that true warm California aesthetic. The space for storage is plentiful (and trust me, I overpack), hinting that staying a third extra night isn't out of the question.
There's a secret that should be said out loud: there is no one above you or on either side of you in this bungalow. The room is extremely quiet all day and night, and that is the biggest thing we look for when traveling. A furnished mini patio didn't expect to host two gleeful travelers at 11 pm, but we couldn't resist. The Santa Ana winds came in, creating the most serenading sounds before bed. As if the ocean in the distance wasn't enough.
Avoiding any responsibilities that weekend, we ordered take-out often and enjoyed every bite in the separate sitting area, making it easy to spread out. An after-dinner respite under twinkling patio lights, lush poolside landscaping, and clean ocean air left us desiring much of nothing, except for that third night.
Let Calgon take you away—this soaking tub doesn't disappoint. The shared shower space is well thought out and makes us ponder a home bathroom remodel. Le Labo toiletries, dual sinks, plentiful fresh towels, bathrobes, slippers, a large vanity mirror, and matching cubby spaces made settling in easy. Our bedding was super soft, and when we ordered additional pillows, they were delivered with a smile. Tomorrow should really be your turn!
Bungalow #4 and pretty much any corner of this Fairmont getaway will shield you from all conflict. That's more than just some rumor.
Onsite Perks
Miramar Beach Club
Dogtown Coffee
Lloyd's Barbershop
Exhale Spa
Glam+Go
The Bungalow
Personal training services available
Laundry services & full beach services available
Pet friendly (see pet policy)
Short walk to the California Incline
* Fig Restaurant is a destination unto itself. It was closed during our visit, but do not despair! Everything coming out of Dogtown Coffee is from this kitchen. The food quality is on fire when you hear the name Fairmont.
Nearby. Don't Miss!
Third Street Promenade
Santa Monica Pier
Dan Modern Chinese (Second Avenue)
Montana Avenue (more great shopping)
Credits & Shout Outs